Tired of Building Projects on the Floor?
This work station puts your work where it should be—off the floor and within easy reach! And that's exactly why I put this project first on the list in my series My First Project. The EZ Cutting Station is a must-have item for anyone wanting to build a project from wood, and a perfect opportunity to learn the basic construction skills you'll need to build those projects!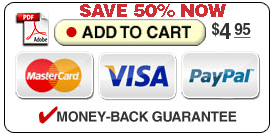 Simple 2x4 Construction
A nice feature about building EZ Cutting Station is that the entire project uses the most inexpensive lumber you'll find at your home center—2x4 studs! These boards are often on sale, sometimes for less than a dollar each. Buy a few extra while you're there—just to give you some practice boards for learning how to cut lumber and drill pilot holes.
Plywood Panel Cutter (optional)
Plywood is one of my favorite materials for building simple
wood projects. Unfortunately, the large panels (4' x 8')
can be difficult to work with. The panels usually end up on the floor, with you having to get down on your hands and knees to measure, mark, and cut them to size (not very fun). The EZ Panel Cutter takes plywood off the floor—and puts it up within easy reach. It also provides a nice place to store plywood for an upcoming project—conveniently tucked away in a corner and away from concrete floors and walls (to avoid moisture damage).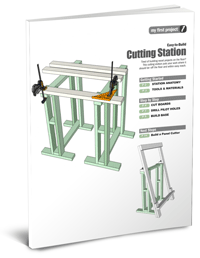 21-page PDF ebook includes easy, step-by-step plans for designing a 2x4 cutting station for your shop.