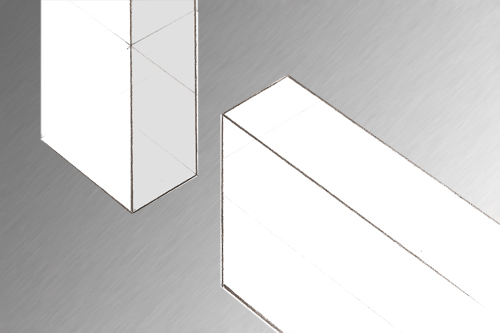 With the right reinforcement, a full butt joint can be one of the quickest and easiest ways to bring two boards together--and keep them together. The attractiveness of this joint, however, depends entirely on the type of reinforcement you choose.
If you're looking for something down and dirty—like joinery that doesn't show to begin with--you'll be amazed at the variety of metal braces available for butt joints. Check out the lumber department at your local home improvement store to see what they have in stock. Keep in mind that many of the metal braces sold for house construction can also be used for some or your smaller shop projects, like a workbench, shelves, and storage cabinets.
Anything you can find to lop off the end of a board and leave a fairly square edge is good enough for most butt joints. That means even a hand saw will do fine for most projects that call for this kind of joinery. To get a more refined edge (and save your self some labor), a circular saw is more likely the tool of choice this kind of task. Using either a quick square or a crosscut guide for circular saws (Bench Dog 10-019 ProCut Portable Circular Saw) you should be able to get a very clean and accurate crosscut that will be plenty smooth enough for a full butt joint.