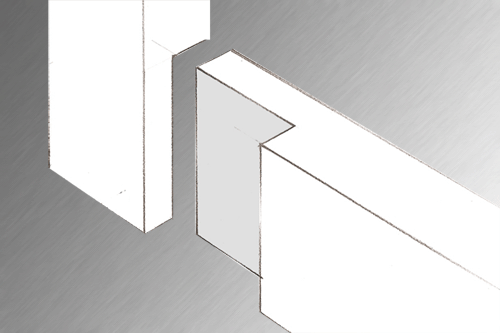 If you're going to use lap joints, half laps are probably the best choice for strength and durability. It's a true interlocking woodworking joint, which means the boards can't move around as much as they might with a full lap joint. You're also getting some extra glue surface in the mix, which adds even more strength to your overall structure. Half laps are common in just about anything made of wood...from simple workbench plans to dining room tables.
A half lap joint means you'll need to cut away a section of material from both of the adjoining boards. Certainly before carpenters had electricity, lap joints were cut with hand saws and chisels. Technically, there's no reason why you couldn't do that today. In fact, for some types of interior trim work, carpenters still prefer cutting half laps with a fine hand saw.
For larger projects, though, it's easy enough to cut lap joints with a circular saw, table saw, or router.The only exception to this rule is in regard to the particular tools you own. If you're just getting started with woodworking, you'll soon discover that a certain type of joinery is very much tied to a certain type of shop tool. If you don't have the tool, you'll have to find an alternative method for cutting the joint. Sometimes this works fine, sometimes not. Hopefully the woodworking plans you find will offer suggestions for an appropriate type of joinery to use, and an alternative method if available.
A secondary consideration for choosing a joinery is simply the way the joint looks on a finished project. Obviously this is more important with fine furniture, but it can also make a big difference in structures as simple as a workbench or backyard pergola. If you'd like to show off some of your woodworking skills, joinery is the perfect place to showcase what you can do in the shop. Also, as a general rule, the more complex the joint, the stronger the overall construction will be. That's an added benefit, but it shouldn't be the only reason you take on more complicated joinery.